Maurer Productions OnStage is proud to announce the Cast for its upcoming musical production of City of Angels, a musical comedy with music by Cy Coleman, lyrics by David Zippel, and book by Larry Gelbart.

Learn More>>

What a Fun Trip Around the World in 80 Days Closes
Once again, a show's run comes to a close, and what a fun trip it has been. Everything about this production was memorable, from the surprise visit by the author, Mark Brown to the hard work and dedication of the five actors.
Angel for a day
Artistic Director of MPO, John M. Maurer got to exercise his inner demons when he was asked to sub the role of Clarance Odbody, AS2 in M&M Stage productions presentation of It's a Wonderful Life.
The Diary of Anne Frank comes to the Kelsey Theatre
MPO Board member Judi Parrish, will be directing the Pennington Players' production of THE DIARY OF ANNE FRANK. The play tells the story of a 13-year old Jewish girl, her family and others in hiding from the Nazis in Amsterdam during World War II. The winner of the Pulitzer Prize, Tony Award, Critics Circle Award and many other honors.
Alumni Happenings for January - March
Join us as we get a little room service and see what is flying into the Kelsey and other theatres with our Alumni.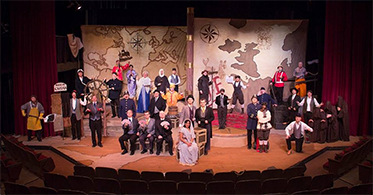 The five members of the 80 Days Cast in all their roles.