The Journey Begins!
Around the World in 80 Days
Set to Open

The Award-winning production team of MPOnStage brings Jules Verne's "Around the World in 80 Days" to the Kelsey stage. This is a Comedy/Adventure for the whole family.

Learn More>>

80 Days Author Mark Brown Stops by for a Chat
Mark Brown is an award-winning writer. His play Around the World in 80 Days has literally been produced around the world, from Off-Broadway, NYC to Baridhara Dhaka, Bangladesh. It has been on many "Best Of" lists and has garnered many awards since its premiere.
MPOnStage Receives three Kelsey Awards.
Maurer Productions OnStage is proud to announce that we were awarded three 2015 Kelsey Awards.
Who walked away with a 2015 Perry Award?
Sunday, September 20th was the 2015 Perry Awards and the night was a Black and White gala event. Here are some of the winners from the Kelsey Theatre.
We will miss you Clementine!
There comes that moment when a parent see's their child group up and leave the nest. And it is no different if your child is 25 feet long and has an 11 foot wingspan. Clementine our beloved dragon and friend is moving on.
Alumni Happenings for October - January
Join us as we take a tour and celebrate our Alumni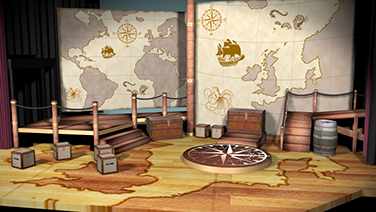 Set for MPOnStages Production of Around the World in 80 Days. Opening October 9th.




Sign up to receive our news- letter, audition announce- ments, updates about our productions and news about other local theatre projects.






The Journey
Starts in
Get Your Tickets Now!
Get your tickets now for the worlds first Amazing Race! Go Here>>