Share on Facebook
OnStage News & Notes - July 2015

In July we gear up for next season with auditions for Around the World; announce our 14 Kelsey Award Nominations; say goodboy to a Friend and Board member; check up on Clementine the Dragon; spread the word about this years Perry Awards Nomiation announcement and see what some MPO alumni are up to.
---
Auditions for Around the World in 80 Days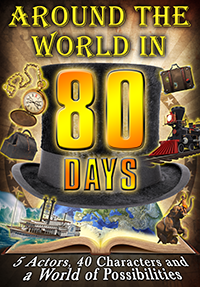 Around the World in 80 Days
Presented by MPOnStage
Written by Mark Brown
Directed by John M. Maurer
The Award-winning production team of MPOnStage are happy to announce open auditions for the Comedy/Adventure for the whole family.
Stampeding elephants! Raging typhoons! Runaway trains! Unabashedly slapstick! Hold onto your seats for the original amazing race!
Join fearless adventurer Phileas Fogg and his faithful manservant Passepartout as they race to beat the clock! Phileas Fogg has agreed to an outrageous wager that puts his fortune and his life at risk. With his resourceful servant Passepartout, Fogg sets out to circle the globe in an unheard of 80 days. But his every step is dogged by a detective who thinks he's a robber on the run.
Danger, romance, and comic surprises abound in this whirlwind of a show as five actors portraying 40 characters traverse seven continents in Mark Brown's adaptation of one of the greatest adventures of all time.
AUDITIONS Signup Now Open!
> TOP >>

---
MPOnStage Receives 14 Kelsey Award Nominations.
Maurer Productions OnStage is proud to announce we have been nominated for 14 Kelsey Awards. Congratulations to the cast and production crew of our nominated shows.
Outstanding Lighting Design
· COUNT DRACULA – M. Kitty Getlik
Outstanding Set & Scenic Design
· COUNT DRACULA – John M. Maurer, Amy Bessellieu & Jeff Cantor
Outstanding Direction of a Play
· LEND ME A TENOR – John M. Maurer
Outstanding Comedic Performance
· LEND ME A TENOR – Peter Bisgaier as "Henry Saunders"
Outstanding Theatrical Romantic Couple
· LEND ME A TENOR – Andrew Timmes & Alysia Toscano as "Max" & "Maggie"
Outstanding Supporting Actress in a Play
· LEND ME A TENOR – Stephanie A. Zimmerman as "Maria Merelli"
· LEND ME A TENOR – Laurie Hardy as "Julia"
Outstanding Supporting Actor in a Play
· LEND ME A TENOR – Peter Bisgaier as "Henry Saunders"
· LEND ME A TENOR – Roman Sohor as "Tito Merelli"
Outstanding Lead Actress in a Play
· COUNT DRACULA – Stephanie Moon as "Mina Murry"
· LEND ME A TENOR – Alysia Toscano as "Maggie Saunders"
Outstanding Lead Actor in a Play
· LEND ME A TENOR – Andrew Timmes as "Max"
Production Company of the Year
· MAURER PRODUCTIONS ONSTAGE – "Count Dracula" & "Lend Me a Tenor"
Outstanding Production of a Play
· LEND ME A TENOR – Producers: John M Maurer & Diana Gilman Maurer
The Kelsey Theatre Awards are presented by K2KEntertainment and The Kelsey Theatre Advisory Board. They both have jointly administered the Kelsey Awards since 2011, the year of the first live Kelsey Award ceremony. The awards, however, have been handed out since 2009.
What sets this event apart from any other theater community theater award events is the fact that the general public (you) choose the winners in each category, including Outstanding Production of a Musical. Throughout the summer, the general public will vote for their favorite production and/or performers from the previous season.

---
MPO Board Honors Retireeing Board Member

As we enter our 11th season at the Kelsey theatre we take some time to thank a departing board member who has volunteered his time and helped to build MPOnStages steller reputation.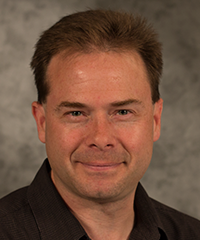 Rob Gougher,
Senior Board Member & Photography and Web Development

A skilled software developer and photographer, Rob has worked with MPO as an actor, photographer and crew member before joining the board in 2012. During his time working with MPO he could be seen on stage and back stage in shows like Hollywood Arms, The Adventures of Tom Sawyer, The Drowsy Chaperone, and Monty Python's Spamalot.

Since joining the board Rob has been a website contributor and publcity photographer, shooting head shots and production stills for A Little Murder, The Drowsy Chaperone, Elton John and Tim Rice's Aida, Dirty Rotten Scoundrels, Shrek the musical, Dracula and Lend Me A Tenor for MPO as well as 13: The Musical, Suessical the Musical, Ragtime, A Christmas Story and more for other Kelsey Theatre companies. We want to thank him for all the help and support he has given the MPO over the years.

"I'm very fortunate to have this opportunity to work with so many talented and supportive people creating great theatre."

Rob is a software developer specializing in imaging science including scanning, printing and movie making software. He was a founding employee of MetaCreation's Viewpoint spinoff as well as a founding employee of Eastman Kodak's Nexpress Digital Printing Press subsidiary. He was responsible for creating the first website for Penn State's Computer Science department. He is an award winning filmmaker, international performer and has studied Computer Science, Political Economics, Mass Communications, Theatre and Film Production.

He has a Masters Degree in Computer Science from Rochester Institute of Technology a Bachelors Degree in Computer Science from Penn State and a Bachelors Degree in Mass Communications from Penn State. We will miss his smiling face and quick wit. Thank you Rob!
---
The Force is Strong with this one.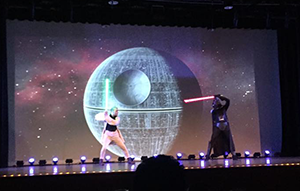 Over the years MPOnStage has been asked to create some interesting props and scenery for local productions. Even through we are known for our puppet making we have created everything from a light weight cast iron stove to suits of armor, to a 25 foot dragon. But when Dani Tucci of Down Stage Center Dance Studio made a special request our geek side took over. This years recital theme was "Heros" and Dani was planning a Star Wars section to end the first act. She wanted to have the Millennium Falcon and two tie fighters fly back and forth across the stage during the number.
After a fantastic experience with Maurer Productions and their Wondrous Red Dragon in my 2014 recital, I was sure they were the team to ask about building and operating props for a Star Wars Contemporary Dance piece in our June 2015 Downstage Center Dance Recital. The props would would include scaled to actual size: Millennium Falcon and two Tie Fighters. John Maurers' construction and attention to detail with both the Falcon and Fighters visually enhanced our production and with the effects of Flying By Foy, took us to a Galaxy Far Far Away…

Danielle Tucci-Juraga
Owner/Operator
---
Where in the World is Clementine!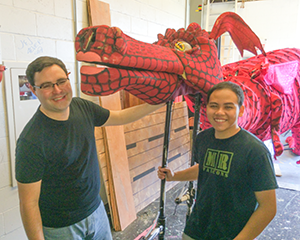 So ... just when you thought it was safe to go out you find out there are still dragons in the world. Clementine the Dragon was once again flying around New Jersey in her never ending quest to be in the spotlight. This time she was on stage with the Monmouth Regional High Schools Drama Club in Tinton, Falls New Jersey. Her time on stage was well spent as both the audience and the students were enthralled by her performance. But don't tell her, she already has a swelled head and an ego to match.
While Clementine was doing a solo performance in Titon Falls some of her onstage companions were treading the boards in Burlington, NJ at the Burlington Township Middle School.
The production used some of MPOnStages Props and Set elements to offset the student created scenery.
"Maurer Productions' set pieces and props gave us just the right touch to further enhance our production. They were well-crafted and just beautiful on stage! Thanks so much!" --Melissa Abrahams-Director, Shrek The Musical, Burlington Township Middle School
---
NJACT Perry Award Nominations Coming August 1st.
Nominations
This year's Nominations Ceremony for the NJACT Perry Awards will be hosted by The Somerset Valley Players on Saturday, August 1, 2015. The ceremony will begin at 2:00PM with light refreshments being served. Somerset Valley Players is located at:
689 Amwell Rd
Hillsborough Township, NJ 08844
Admission: $5 (cash only)
Theaters should send their representatives to receive the Perry Award invitations for each of their nominees.
Award Ceremony




The 2015 Perry Awards Ceremony will be Sunday, September 20, 2015 at the Doubletree by Hilton Somerset Hotel and Conference Center 200 Atrium Drive, Somerset, NJ 08873 This year's theme will be "Black & White"! Get out your big hats, your white spats and let's have a ball! Online ticket ordering will be available, look for more details immediately following the nomination ceremony on August 1st.
A bit of History
The NJACT Perry Awards are given for outstanding achievements in New Jersey Community Theater. At the beginning of each season, NJACT Member Theaters submit their shows for award consideration. Two NJACT Reviewers attend each production, evaluate all on-stage aspects of the performance, and provide separate numerical scores for over 50 different criteria across 10 different review categories. More than 200 shows produced by theater companies around the state are submitted each year, which require over 400 reviews by trained NJACT volunteers.
NJACT bestows Perry Awards in 33 performance and technical categories based on NJACT reviewer scores. Candidates with the top seven scores in each category are considered nominees. The nominee with the highest score in each category receives the Perry Award. There are also four Special Perry Awards available each year: Community Theater of the Year Award, the Lifetime Achievement Award, the David P. McMenemie Award, and the Perry Award for Outstanding Stage Management. Candidates for these awards are nominated by members of the community, and the recipient is determined by NJACT Board vote of those nominated.
---
Alumni Happenings for July and August
Guys and Dolls by M&M Stage Productions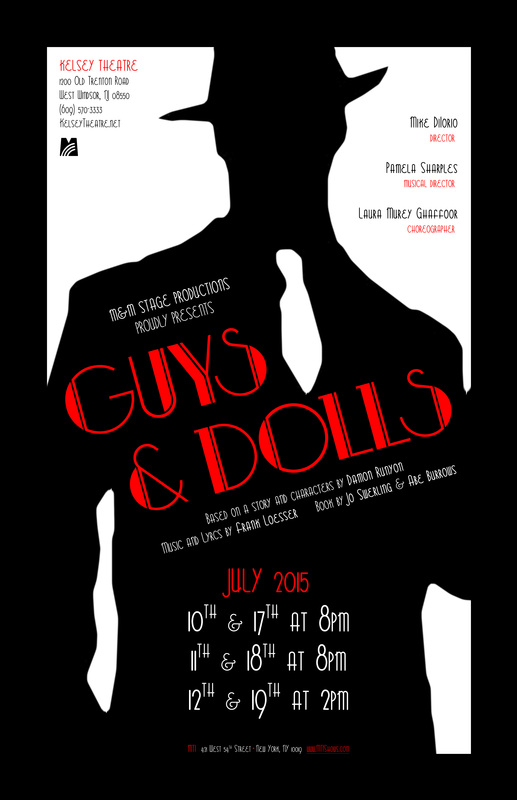 See alumni Joe Zedeny as SKY MASTERSON, Michael Lovett as NATHAN DETROIT, Nick Pecht as NICELY-NICELY and Matthew Cassidy as ARVIDE in the M&M Stage Productions of "GUYS & DOLLS" running July 10-19 at Kelsey Theatre at Mercer . Tickets on sale now.
Synopsis: Set in Damon Runyon's fictitious New York City, inveterate gambler Nathan Detroit is strapped for cash to set up the biggest craps game in town. A scheme involving fellow gambler Sky Masterson, wagering for the heart of a straight-laced missionary, threatens to undermine his credibility with fellow gamblers… and his fiancé of 14 years! You can't get any luckier! Considered the perfect American musical, with unforgettable songs and a quirky cast of gamblers, gangsters, gals and good neighbors, GUYS & DOLLS is an evening of entertainment you can bet on!
Dates and Times:
July 10, 11, 17, and 18, 2015, at 8 PM
July 12 and 19, 2015, at 2 PM
Tickets:
$20 adults, $18 seniors, $16 students/children
Theater Info:
Kelsey Theatre
Mercer County Community College
1200 Old Trenton Road
West Windsor, NJ 08550
For directions to the theater, visit http://www.mccc.edu/welcome_directions_wwcampus.shtml.

> TOP >>
---
HELLO, DOLLY!, Summer Music Theatre, Muhlenberg College in Allentown, PA: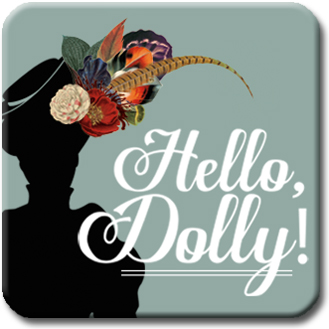 Alumni Molly Karlin is performing in the Regional theatre production of Hello, Dolly!
Synopsis: Join us on a whirlwind race around New York, at the turn of the 20th century, as we follow the adventures of America's most beloved matchmaker! A ten-time Tony Award winner, Hello, Dolly! tells the story of self-professed "meddler" Dolly Levi, on a quest to make a match of her own, to Horace Vandergelder, the richest man in Yonkers. You'll leave the theatre humming the show's irresistible score — and charmed by the ebullient personality of one of musical theatre's most fabulous characters!
Dates and Times:
Friday, April 17 at 8 pm
Saturday, April 18 at 8 pm
Sunday, April 19 at 2 pm
Tickets:
Purchase online!
or call 484-664-3333.

First Week (Wed-Sat)
Regular Price: $33 Seniors (65+): $29 Students (19-22): $18 Children (5-18): $18

Rest of the Run (including Sundays)
Regular Price: $39 Seniors (65+): $36 Students (19-22): $20 Children (5-18): $20

Family Matinees Sunday matinee tickets for children are just $10! Ages 5-18. Limit two $10 ticket per adult/senior ticket purchased.

Groups of 15+
Regular price / seniors: $25 Students / Children: $16

Groups, call 484-664-3087.
Muhlenberg College 2400 Chew St. Allentown, PA 18104-5586 484-664-3100
> TOP >>
---