The following are press photos created to spread the word about Monty Python's Spamalot.
You are welcome to duplicate and distribute these materials as much as you like in order to help promote OnStage's production of Monty Python's Spamalot. opening in November 15, 2013. Just click on the image to download a print quality JPEG version.
If you wish to reproduce these photos for any other reason, please contact Maurer Productions OnStage for permission.

Photo Credit:
Photos by Robert Gougher & John M. Maurer
---
Photo 1: The Knights
They Found It! and you can too! From left are Justin Derry of Langhorne, PA as Sir Robin; Kevin Palardy of Doylestown, PA as Sir Lancelot; Stuart Myles of Newtown, PA as King Arthur; Sean Downing of Lumberton, NJ as Sir Galahad; Peter Bisqaier of Princeton Jct., NJ as Sir Bedevere; Robert Gougher of Newtown, PA as Patsy and Mimi Francis of Lawrence, NJ as the Lady of the Lake in the Maurer Productions OnStage presentation of Monty Python's Spamalot. The musical comedy about how knights spend their days is presented at the Kelsey Theatre on the West Windsor campus of Mercer County Community college November 15th - December 1st, 2013. Admission $20. For tickets call: 609-570-3333 or visit http://www.kelseyatmccc.org/
Photo Credit:
Photos by Robert Gougher & John M. Maurer

For more information visit www.mponstage.com
---
Photo 2: King Arthur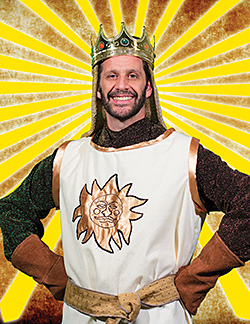 Monty Python's Spamalot.

Found It! and you can too! Stuart Myles of Newtown, PA plays King Arthur in the Maurer Productions OnStage presentation of Monty Python's Spamalot. The musical comedy about how knights spend their days is presented at the Kelsey Theatre on the West Windsor campus of Mercer County Community college November 15th - December 1st, 2013. Admission $20. For tickets call: 609-570-3333 or visit http://www.kelseyatmccc.org/
Photo Credit:
Photos by Robert Gougher & John M. Maurer

For more information visit www.mponstage.com
---

Photo 3: Lady of the Lake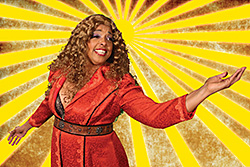 Monty Python's Spamalot.
Found It! and you can too! Mimi Francis of Lawrence, NJ plays the Lady of the Lake in the Maurer Productions OnStage presentation of Monty Python's Spamalot. The musical comedy about how knights spend their days is presented at the Kelsey Theatre on the West Windsor campus of Mercer County Community college November 15th - December 1st, 2013. Admission $20. For tickets call: 609-570-3333 or visit http://www.kelseyatmccc.org/
Photo Credit:
Photos by Robert Gougher & John M. Maurer

For more information visit www.mponstage.com
---

Photo 4: Patsy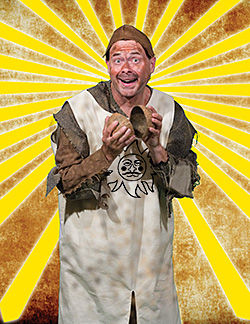 Monty Python's Spamalot.

Found It! and you can too! Robert Gougher of Newtown, PA plays Patsy in the Maurer Productions OnStage presentation of Monty Python's Spamalot. The musical comedy about how knights spend their days is presented at the Kelsey Theatre on the West Windsor campus of Mercer County Community college November 15th - December 1st, 2013. Admission $20. For tickets call: 609-570-3333 or visit http://www.kelseyatmccc.org/
Photo Credit:
Photos by Robert Gougher & John M. Maurer

For more information visit www.mponstage.com
---

Photo 5: Sir Lancelot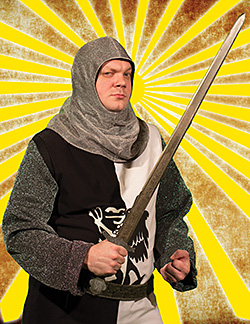 Monty Python's Spamalot.
Found It! and you can too! Kevin Palardy of Doylestown, PA plays Sir Lancelot in the Maurer Productions OnStage presentation of Monty Python's Spamalot. The musical comedy about how knights spend their days is presented at the Kelsey Theatre on the West Windsor campus of Mercer County Community college November 15th - December 1st, 2013. Admission $20. For tickets call: 609-570-3333 or visit http://www.kelseyatmccc.org/
Photo Credit:
Photos by Robert Gougher & John M. Maurer

For more information visit www.mponstage.com
---
---

Photo 6: Sir Robin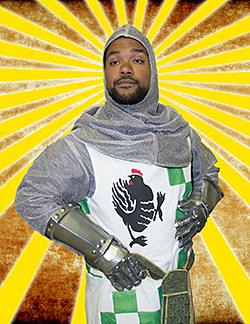 Monty Python's Spamalot.

Found It! and you can too! Justin Derry of Langhorne, PA plays Sir Robin in the Maurer Productions OnStage presentation of Monty Python's Spamalot. The musical comedy about how knights spend their days is presented at the Kelsey Theatre on the West Windsor campus of Mercer County Community college November 15th - December 1st, 2013. Admission $20. For tickets call: 609-570-3333 or visit http://www.kelseyatmccc.org/
Photo Credit:
Photos by Robert Gougher & John M. Maurer

For more information visit www.mponstage.com
---
Photo 7: Prince Herbert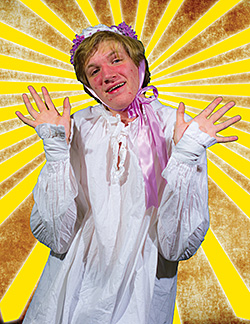 Monty Python's Spamalot.
Found It! and you can too! Paul Phalen of West Windsor NJ plays Prince Herbert in the Maurer Productions OnStage presentation of Monty Python's Spamalot. The musical comedy about how knights spend their days is presented at the Kelsey Theatre on the West Windsor campus of Mercer County Community college November 15th - December 1st, 2013. Admission $20. For tickets call: 609-570-3333 or visit http://www.kelseyatmccc.org/
Photo Credit:
Photos by Robert Gougher & John M. Maurer

For more information visit www.mponstage.com
---

Photo 8: Sir Galahad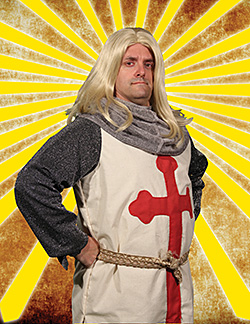 Monty Python's Spamalot.
Found It! and you can too! Sean Downing of Lumberton, NJ plays Sir Galahad in the Maurer Productions OnStage presentation of Monty Python's Spamalot. The musical comedy about how knights spend their days is presented at the Kelsey Theatre on the West Windsor campus of Mercer County Community college November 15th - December 1st, 2013. Admission $20. For tickets call: 609-570-3333 or visit http://www.kelseyatmccc.org/
Photo Credit:
Photos by Robert Gougher & John M. Maurer

For more information visit www.mponstage.com
---

Photo 8: Sir Bedevere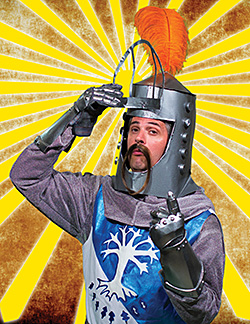 Monty Python's Spamalot.
Found It! and you can too! Peter Bisqaier of Princeton Jct., NJ pays Sir Bedevere in the Maurer Productions OnStage presentation of Monty Python's Spamalot. The musical comedy about how knights spend their days is presented at the Kelsey Theatre on the West Windsor campus of Mercer County Community college November 15th - December 1st, 2013. Admission $20. For tickets call: 609-570-3333 or visit http://www.kelseyatmccc.org/
Photo Credit:
Photos by Robert Gougher & John M. Maurer

For more information visit www.mponstage.com
---