"Dirty Rotten Scoundrels"
Comes to MCCC's Kelsey Theatre
May 13-22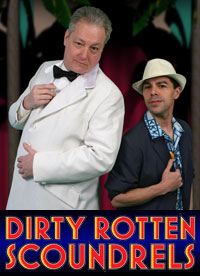 West Windsor, N.J. – Conmen Lawrence Jameson and Freddy Benson are up to raucous trickery at Mercer County Community College Kelsey Theatre in May. Enter their world on the French Riviera as the duo unleashes their antics in the much acclaimed Broadway musical "Dirty Rotten Scoundrels" Fridays, May 13 and 20 at 7:30 p.m.; Saturdays May 14 and 21 at 7:30 p.m. and Sundays, May 15 and 22 at 2 p.m. The Kelsey Theatre is located on the college's West Windsor campus at 1200 Old Trenton Road. A reception with the cast and crew follows the opening performance on May 13.
A chance meeting on a train throws the two con artists into each other's path. Vastly different, the suave and sophisticated Jameson and small-time crook Benson scheme to get as much money as possible from unsuspecting ladies. Deciding that the town is not big enough for them both, they set up a challenge: see who can be the first to swindle $50,000 from a young heiress. The winner stays, and the loser leaves town. Come join in on their twisted journey with loads of laughs along the way.
Featured in the lead roles are Daniel Petrovich, of Macungie, PA , as Lawrence Jameson, and William Mercado, of Hightstown, NJ, as Freddy Benson, and Emily Huddell, of Moorestown, NJ, as Christine Colgate. Also featured are Scott Karlin of Plainsboro, NJ, as Andre Thibault; Cathy Liebars of Langhorne, PA as Muriel Eubanks, Jennifer Barron of Hamilton, NJ, as Jolene Oakes; Jessica Laynor of Ewing, NJ as Lenore; Amy Slothower of Plainsboro, NJ as Sophia; Sarah Mcihenny of Browns Mills, NJ as the Maid; Sharon Underberg of Belle Mead, NJ as the Nun; Rosie Karlin of Plainsboro, NJ as the Usherette; Wendy Watt of Hamilton, NJ as Renee; Melissa Geerlof of Hamilton, NJ as the Debutant; Judy Berwick of Lawrenceville, NJ as the Croupier; Dan Slothower of Plainsboro, NJ as the Conductor; John Ragazzo of East Windsor, NJ as the Waiter/Bellhop; Ray Murphy of Hamilton Square, NJ as the Hotel Manager; Tim Kline of Ewing, NJ as the Musician/Bellhop; and Joshua Waldorf of Yardley, PA as Nikos.
The show is directed by John M. Maurer of Ewing NJ. Musical Director is Laurie Gougher of Newtown, PA; costume designer is Ruth Rittman of Ewing; lighting design is by Kitty Getlik of Hamilton NJ, and sound design is by Dan Maurer of Robbinsville, NJ. Tickets are $16 for adults, $14 for seniors, and $12 for students and children.
Tickets may be purchased online or by calling the Kelsey Box Office at 609-570-3333. Kelsey Theatre is wheelchair accessible. Free parking is available next to the theater.
More on events at the Kelsey Theatre.