The Hundred Acre Wood Comes to Life

in the Hands of the Director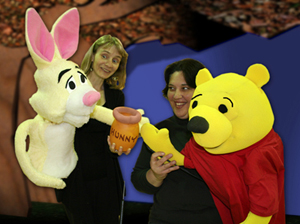 Do Kermit and Miss Piggy make you laugh? Is Broadway's Avenue Q on your list of must see musicals this year? If so, your whole family probably loved the critically acclaimed, puppet-filled production of Winnie the Pooh, the Musical, presented by Maurer Productions OnStage at Mercer County Community College's Kelsey Theatre back in June, 2007.
Produced by the same creative team that brought You're a Good Man, Charlie Brown, and It's a Wonderful Life to the Kelsey last year, Winnie the Pooh, the Musical brought the timeless characters of A.A. Milne to life in an exciting way. Featuring a team of local actors, the story was performed using muppet-like hand and rod puppets. Presented in the Japanese puppet style of Buraku, both the puppets and the actors operating them were visible on stage resulting in a hybrid performance between the actors and the characters they portrayed/operated. With this traditional technique in play, children and adults alike enjoyed the adventures of Pooh, Eeyore, Piglet, Rabbit, Kanga, Roo, Owl and Christopher Robin as they sang and danced their way through the Hundred Acre Wood.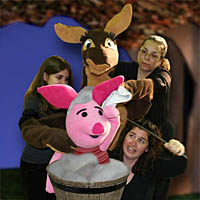 No less than fifteen puppets were hand-made for the production, each designed to look just like the familiar characters illustrated in Milne's original stories. It took executive producer John Maurer and several assistants hundreds of hours over 6 months to turn piles of foam and fabric into the characters we all know and love. The effort became a journey of discovery for the producer/director. Maurer, a self taught puppeteer, had to litterally teach himself the craft of puppet-making from scratch.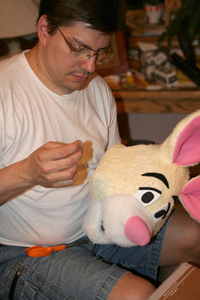 That journey first began when Kelsey Theatre Artistic Director Kitty Getlik recommended Maurer bring Pooh and friends back to the Kelsey stage. As an actor, Maurer had performed in several productions of Winnie the Pooh over the last 25 years, appearing as both Pooh and Rabbit, but he never had a chance to put his personal stamp on the show as a producer until now. Jumping at the opportunity to revisit the Hundred Acre Wood and its inhabitants, Maurer sought a way to make the show fresh and exciting for a new generation of young families. He found his answer on Broadway.
"I'd always loved Jim Henson's Muppets growing up," Maurer said, "but I never considered that kind of story-telling tool as an option for the live stage until I saw Avenue Q."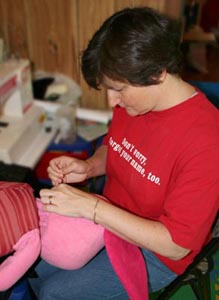 Avenue Q, an adult parody on the Sesame Street television show, features actors out in the open operating hand and rod puppets in a hybrid performance. The technique worked so well, the show won the 2004 Tony Award for Best Musical, beating out bigger productions like the smash hit Wicked. Inspired by Avenue Q, his affection for Milne's characters, and the creative challenge of it all, Maurer began scowering book stores, e-Bay, Amazon.com and the Internet in general for any information he could find about the craft of puppet construction. Books, articles and videos were consumed, and late evenings were spent building proto-type puppets in order to perfect designs and construction techniques. But building professional looking puppets was only half the battle; someone had to operate them.
Finding both adult and child actors who could not only perform well, but also learn the art of puppetry, was a tall order. This was made even more challenging by Maurer's insistence that the show not be pre-cast. As an actor himself, Maurer continued to insist on conducting open auditions in order to give every interested performer an equal opportunity. No puppeteering skills were required to audition and the show was promoted to actors as an opportunity to learn a new skill.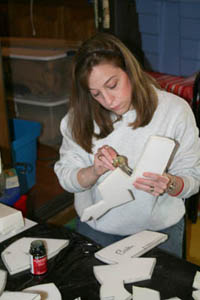 More than 30 adult and child actors signed up to audition. Each actor was loaned a puppet and asked to audition "through the puppet," and bring the puppet to life in both voice and movement. Sometimes Maurer, with his own puppet in hand, would coach the actors during auditions. He gave director's notes (especially to child actors) through the puppet, speaking in character and through the motions and gestures of the puppet -- a great educational technique he later employed during rehearsals.

After two days of auditions the show was cast with some wonderful local talent. To ensure that they had the time and opportunity to pick up their new skill, a full 10 week rehearsal schedule was planned, something not often done in children's productions. What's more, Maurer conducted several puppetry clinics with the cast, coaching them in the finer points of the craft and giving them an opportunity to develop their characters and new found skill. a
In more than 30 years as an actor, director, producer, set designer and effects wizard, Maurer has built a reputation for staging stories of humor, excitement and human drama. With Winnie the Pooh, the Musical he demonstrated that he can deliver stories of child-like wonder and warmth as well.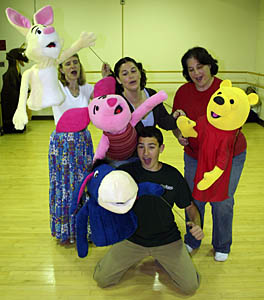 Winnie the Pooh, the Musical featured Thomas Martella of Bordentown as Christopher Robin and Toni Campbell of Trenton as Pooh. Appearing as Pooh's colorful companions in the Hundred Acre Wood were: Jake Bazel of Manalapan as Roo; Matthew Daley of Howell as Owl; Jesse Dubin of Lawrenceville as Eeyore; Jean Prall Rosolino of Princeton as Rabbit; and Nicole Spadafino of Bridgewater as Piglet. Kanga was a two-person puppet played and voiced by Rosie Karlin of Plainsboro and assisted by Katie Correll of Yardley, PA, who also played Rocky the Raccoon. Ray Murphy of Hamilton Square was the narrator. Also featured were Samantha Chapman of West Windsor as Tess the Mouse; Tara Dorgan of Robbinsville as Mindy the Bunny; Caroline Maurer of Robbinsville as Chip the Chipmunk; Hunter Maurer of Ewing as Brandon the Turtle; Stacy Maurer of Ewing as Tulip the Skunk; and Reed Schmidt of Columbus as Cindy the Bunny. The production team included director/producer John Maurer, musical director Buzz Herman, choreographer Jane Coult, and stage manager Alycia Bauch-Cantor.