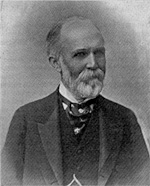 The Kelsey Theatre, home to Maurer Productions OnStage, was named for Henry Cooper Kelsey, a great supporter of education and the arts.
It all began in 1909 when Henry Cooper Kelsey offered to erect a building for the Trenton School of Industrial Arts in memory of his wife, Prudence Townsend Kelsey, who had died five years earlier. He donated $142,000 for the construction. The school moved into its new quarters on March of 1911.
The Kelsey Building, located in Trenton, NJ, was once the home of Mercer County Community College, under various names, and over time has been the home of four educational institutions. Today it is the home of Thomas Edison State College.
The Kelsey Building was designed by one of America's most famous architects, Cass Gilbert, a past president of the American Institute of Architects and designer of the prominent Woolworth Building in New York. Inside the Kelsey Building, a lavishly decorated room was built as a special tribute to Prudence. Even today, the Prudence Townsend Kelsey Memorial Room is a permanent exhibit space for the porcelain and art she and her husband collected on their annual trips to Europe.
Henry Cooper Kelsey, born in 1837, served as postmaster of Newtown, NJ and as Judge of the Common Pleas Court of Sussex County.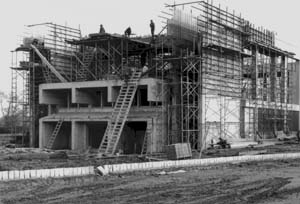 In 1870, he was appointed New Jersey Secretary of State, serving by re-appointment 6 times for 27 years, and retiring at the age of 60. He served as Vice President of Mechanics and Manufacturer's Bank as well as Director of the Trenton Building Company, both forerunners of today's New Jersey National Bank. When he died in 1921, his estate totaled over $500,000, including $80,000 gifts each to St. Francis Hospital and McKinley (Now Helene Fuld) Hospital, and $10,000 to Trinity Episcopal Church.
Henry Cooper Kelsey has been honored by Mercer County Community College, through the establishment of the Kelsey Review and the Kelsey Theatre.
The Kelsey Theatre is shown here
in the early stages of construction.